Pure nature and rising colors - Mount Sciliar/Alpe di Siusi
from 10.09.2023 to 16.10.2023
from 917.00 € per person
Artnatur Dolomites ****
from 10.09.2023 to 16.10.2023
Remaining memories of colorful autums

Beautiful mountain views surround you as you hike through limestone geology with a beautiful array of colors and shapes. This UNESCO World heritage site offers a variety of hiking and skiing opportunities, but visiting the region in the autumn offers you some of the most scenic hiking in the world.

Autumn is playing with is colors: beautiful yellow - orange, red and deep blue - mild temperatures let us enjoy these emotions till the end of October. Especially when the forests are changing into yellow colours and the first light snow is covering the peaks of the Dolomites, the landscape is turning into a magical dreamland. And the warm sun is guiding the hikers on the Alpe di Siusi on perfect prepared trails.
Start with a fabulous and healthy breakfast Vitalpina.
Taste our fresh alpine-mediterrenean cuisine
Sweet dreams are gurantee in our natural wood rooms "alpin style"
5 guided hiking tours per week with your expert hiking guides
The best trails in the Dolomites: hiking peeks, listening to rivers, the silence of the forest, calm lakes, powerful rivers.
1 Vitalpina®beathing hike: power and relax with special breathing tecniques
1 Vitalpina_breathing booklet®
Alpine SPA: heathed indoor pool and outdoor saltwather pool. Sauna world with different theme saunas and mystic salt cave with thermo beds.
Calm garden with mountain view for total relax
Alpine Beauty: special threatments and massages with powerful alpine herbs
Green lifestyle - we are certified ECU Ecolabel of environmental excellence
All services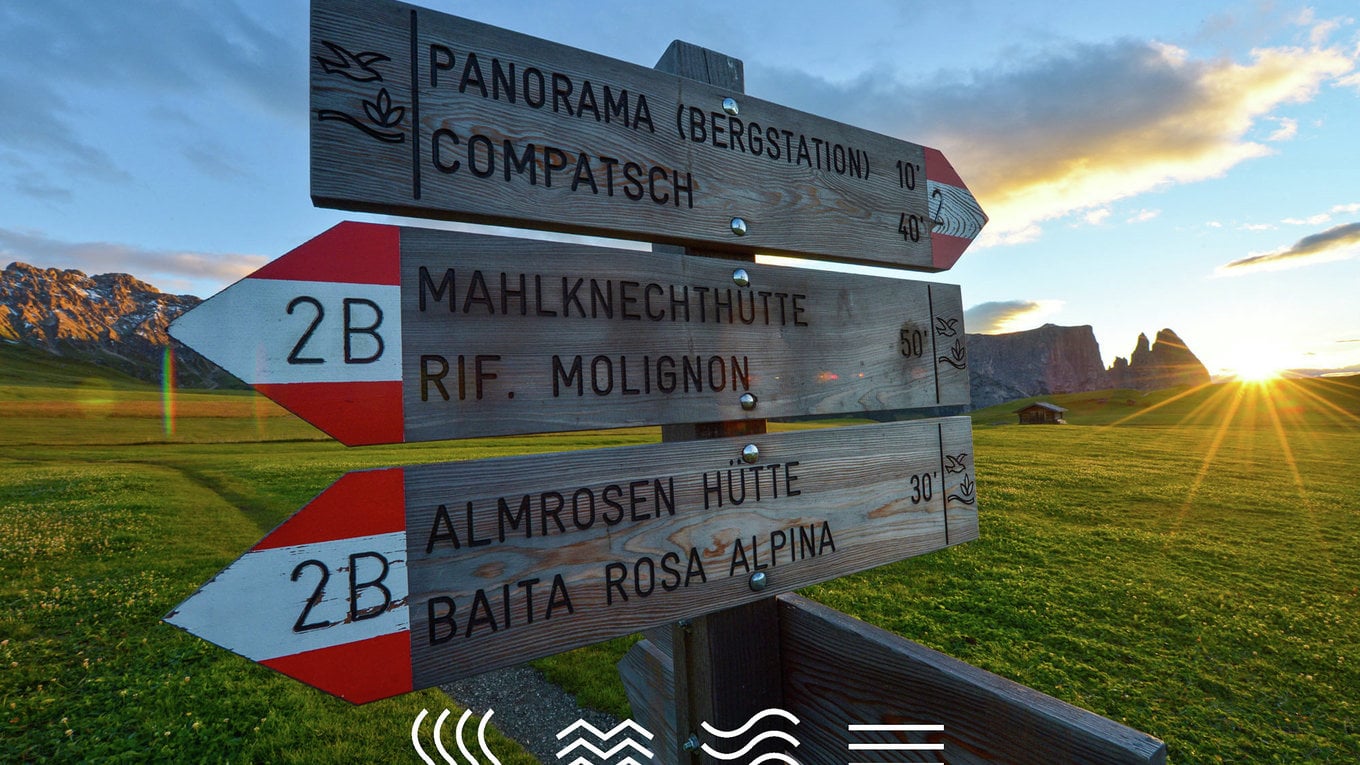 Sleeping in the scent of our forests
Vitalpina-cuisine with mediterranean freschness
Cult place for body, spirit and soul
Green lifestyle - we are certified ECU Ecolabel of environmental excellence
Calm garden with mountain view
Adventurous kids playground
Are you interested in our offer?