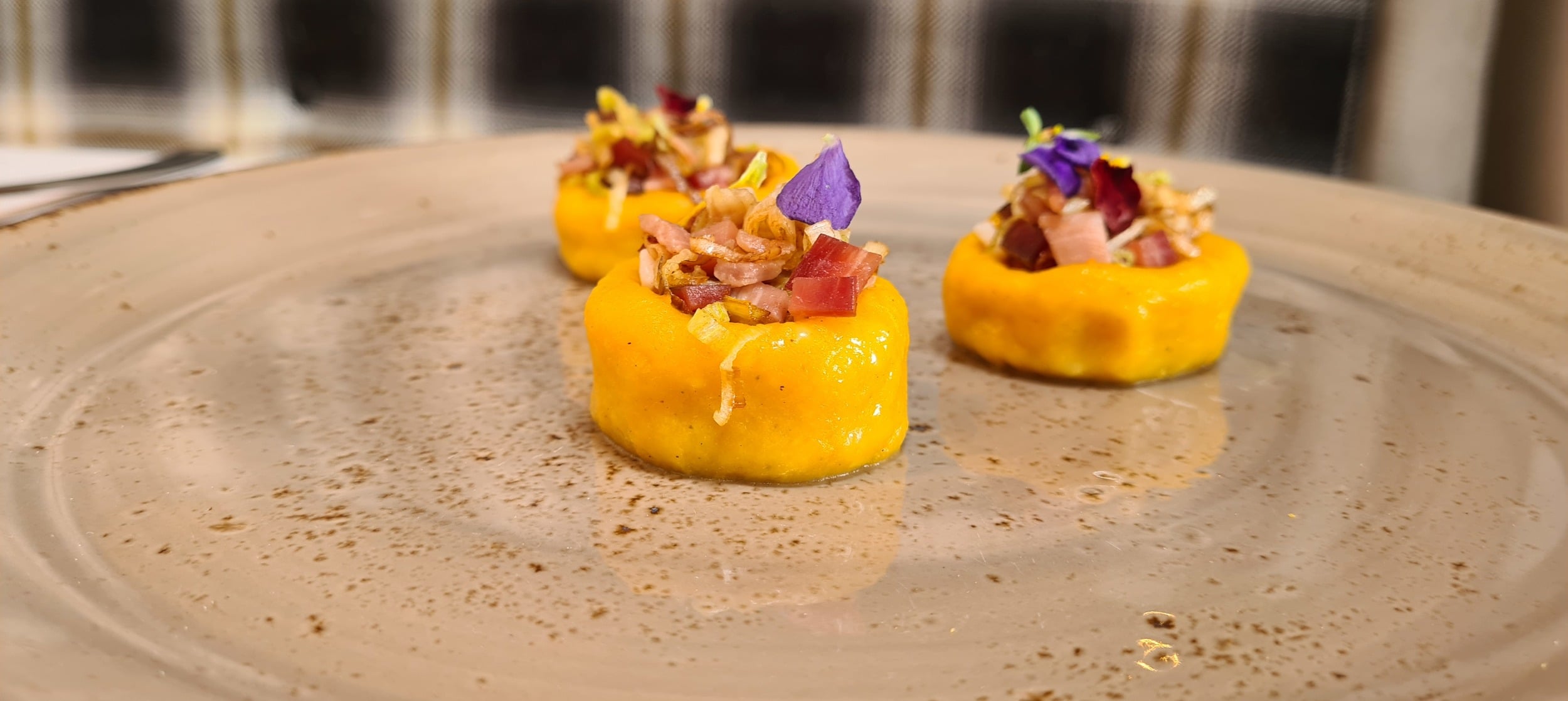 Let´s swing the wooden spoon togheter!
The evenings are getting cooler, the house is cosy again and the wooden spoon in the kitchen is looking forward to being used more often.
Because now the appetite for warm and delicious dishes is growing again. Is it the same for you?
Surely you also have a plentiful harvest at home from the garden or from the farmer's field, which is now heartier and more autumnal in autumn.
The colourful pumpkins, the crunchy cabbage, the delicious leek stalks - so much unadulterated flavour simply has to be brought to the table with lots of love.
Of course, our cooks appreciate the fact that the produce comes from the immediate surroundings, all the delicacies that autumn has to offer.
If you are longing for South Tyrol because your holiday is already over, we have prepared a recipe for you to try again - but be careful, it won't just be a one-off. 😇
Pumpkin gnocchi with bacon

Basic information
- Preparation time: 00:45 hrs.
- People: 4
Ingredients
o 400 g potatoes, peeled and mashed
o 150 g flour
o 30 g egg yolk
o 80 g pumpkin puree
o salt and pepper
To serve
o 100 g leek
o 60 g butter
o 100 g bacon
o 2-3 tablespoons South Tyrolean hard cheese or Parmesan, if desired
Preparation
- Season the pumpkin (one half according to size) with herbs, salt and pepper, wrap in baking foil and braise in the oven at 200 °C until soft.
- First mix the cooled pumpkin and then knead it with the potatoes, flour, egg yolk, salt and pepper to make a smooth dough.
- Shape into round gnocchi and make a hollow in the centre with your fingers.
- Cook in salted water until they float to the surface.
- Lightly fry the bacon and leek in butter.
- Strain the gnocchi, arrange on the plate and fill with pumpkin puree and the bacon and leek mixture.
- Finish with cheese, if you like.
We hope you enjoy the dish! If you would like to see the cooking video click
here.

Of all the seasons, autumn is the most colourful!